Tuning brake discs – are they worth installing?
Only a few drivers think about completely rebuilding their braking system. But a large group of people are considering replacing pads or discs with higher-end products. In this material, we answer an intriguing question: is it worth buying tuning brake discs?
In this article:
Quality, performance and appearance
Not only for athletes
Before you replace
What are the benefits of slotting and drilling?
Color – not for parade
Serious modifications to the braking system, including even replacing the calipers, are a topic for professionals who have significantly interfered with the engine and now have to ensure that the braking system meets new challenges. Generally, if someone undertakes this type of modifications, he or she assumes that he or she has the appropriate knowledge and skills.
However, there is another group of users who are interested in a much smaller scope of modifications and, in technical terms, are rather amateurs. These are mainly people who complain about the too weak performance of the braking system in relation to the factory weight and performance of the car. Such problems are usually associated with frequent overheating of the brakes when driving in the mountains or on highways with a full load. No wonder that after one or two replacements of the factory set of friction elements, which did not bring the expected results, there is a desire to check whether something can be improved in this matter.
This is absolutely possible. Noticeable benefits may be brought by just installing slightly better brake pads, but the real benefits will only be felt after replacing the pads together with the discs. Here we recommend ROTINGER tuning brake discs.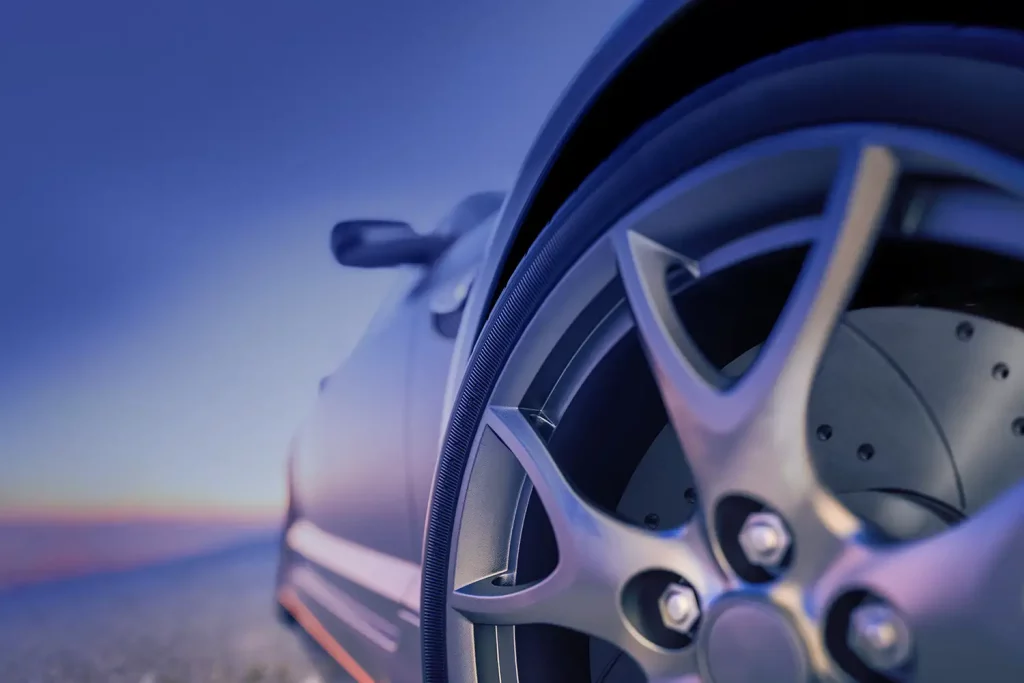 Quality, performance and appearance
ROTINGER brake discs have at least three advantages. Firstly, they are made very precisely from the highest quality materials, thanks to which we can talk about their increased resistance to deformation. Secondly, selected versions are drilled or slotted, which helps remove dirt and translates into higher braking efficiency. Thirdly, they are very visually attractive and if the car is equipped with openwork rims, such discs will certainly improve its appearance. A perfect example are the ROTINGER Graphite Line graphite slotted and drilled discs that meet all the necessary standards required on the Polish market and can be legally and safely installed in any car in accordance with the catalogue.
Not only for athletes
Many specialists rightly emphasize that the installation of some tuning parts of the braking system works only in sports, because their advantages become visible only after significant warming up, and therefore in a narrow range of high temperatures. This is of course true, but fortunately it does not apply to ROTINGER tuning brake discs. Perfect precision of workmanship (no runout) and resistance to overheating are features that will be noticed in basically the entire temperature range. The resulting higher level of safety and comfort on highways or expressways and better efficiency in the mountains – these are the advantages available during "civilian" operation. It is worth adding here that in the case of ROTINGER discs, we have two variants of execution – standard and HP, which allows you to choose them even better to your requirements and budget.
Of course, after installing tuning brake discs, a car that stopped from 100 km/h in a distance of 40 m will not stop after 10 meters, but it will still be about 40 m. However, there is nothing stopping you from reducing the sensitivity of the braking system to overheating, that is, try to ensure that the braking distance does not change depending on the brake temperature. And this is exactly where manufacturers such as ROTINGER are heading.
Before you replace
Before deciding to tune the braking system, you should always answer the question whether the braking system is completely functional? Some problems may be caused by worn discs (too small disc thickness) or pads, poor quality brake fluid or other actuators of the braking system.
It should also be remembered that while brake pads can be replaced themselves, replacing brake discs always means installing a new set of pads.
What are the benefits of slotting and drilling?
Both processes aim to improve braking quality under high load conditions. Slotting helps to clean the disc from dust, and drilling reduces its heating. Interestingly, the slot patterns developed by ROTINGER support the operation of the pads by preventing their surface from becoming glassy. The fact that such dials look great is an added value in this case.
Color – not for parade
Many manufacturers of tuning discs offer their products in various colors. In the case of ROTINGER discs, the color is graphite. It plays a visual role, but it was not the priority. The main advantage of the graphite coating is better protection protects against corrosion. This parameter has been confirmed in the laboratory. ROTINGER graphite discs have successfully passed special tests in a salt chamber (up to 168 hours – test according to ASTM B-117).
Summary
Tuning of the braking system can be performed in various areas. Whether it will bring the expected results depends on the quality of the installed elements. In the case of ROTINGER brake discs, customers are clearly informed about the quality features of these discs and therefore do not buy the proverbial pig in a poke. The fact that the manufacturer's declarations are confirmed in practice is proven by the opinions about ROTINGER discs that can be found on the Internet. For the most part, users speak very positively about them.
ROTINGER tuning discs – choose discs for your car! Check the offer!
Discover ROTINGER: